There is some exciting news this week about Charlie Brown's past and future animated adventures.
But first, let me go back to last month. Reddit hosted a chat with Jeannie Schulz, the widow of Peanuts creator Charles Schulz. I asked her if there were any plans to release Race For Your Life, Charlie Brown or Bon Voyage, Charlie Brown (And Don't Come Back) on dvd. These theatrical movies were released on VHS in the 1990s but have now been out of print for years. Here's Jeannie's response:
"You know, I don't know any plans, and it's terrible, because I have a distant relative in France who LOVES that movie. The rights to them are owned by - and now my mind is going blank... it's the company that we did them with originally... and they don't, I guess, have any interest in exploiting them? And i suppose from their point of view, it's too small a market, so they might sell 1,000 or 5,000 but in their world, you need to sell 10,000. I don't know. I can't think of the company that owns the rights to that, I'm sorry. So it's a shame, because I think they are fun, and even though the animation is old-fashioned, and people would say they are slow-moving compared to today, I still think there are people who would enjoy them."
This was very disappointing news to a fan like myself. But the other day, I learned that Jeannie Schulz was mistaken. Paramount is releasing both films

on

dvd next year!

Race For Your Life

comes out on dvd on February 10, here's the cover art:
Bon Voyage celebrates its 35th anniversary next year and will be released on dvd in October 2015.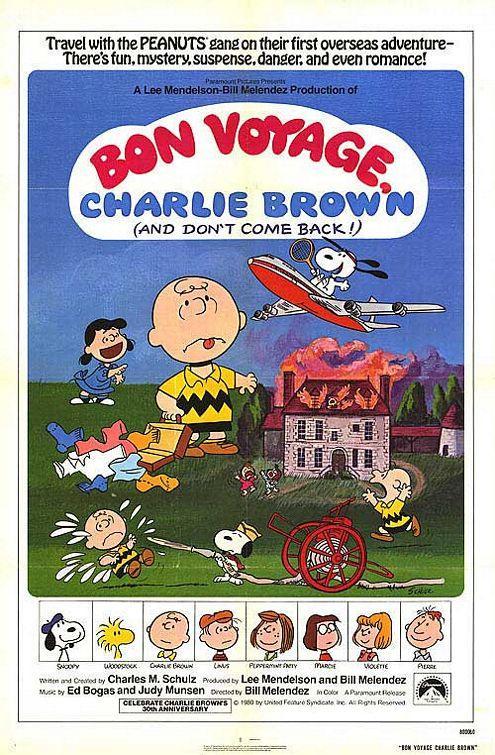 Original 1980 movie poster for Bon Voyage.
But that's not the only news. We are now less than a year r

emovd

from the release date (

November 6)

for

the new Peanuts movie. Yesterday, some new images from the film were released.
It's too soon to tell if the story will be good

.

B

ut producer Paul Feig says that Charlie Brown goes "

on a quest to get something he's sure he needs, even though he discovers he's pretty OK just as he is.

" Director Steve Martini stated that Snoopy will be putting on his old World War I Flying Ace helmet and going behind enemy lines.
As I was getting ready to publish this, I learned that another trailer for the movie has been released, so here it is:
I'm not crazy about the song in the middle (I doubt it will be there when the movie is released), but the animation looks great! 2015 is shaping up to be a great year for fans of Charlie Brown, Snoopy and the gang.
J.A.